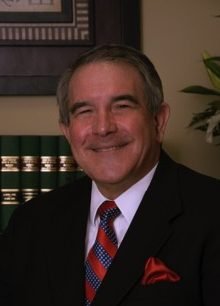 Willis W. ("Bill") Apple joined Apple Payne Law, PLLC after being at Willis W. Apple, P.A. from January 2013 to May 2018. He formed Willis W. Apple P.A. after a substantial amount of time with John G. Wolfe, III & Associates, PLLC in Kernersville, North Carolina. Before Wolfe, he had in excess of 20 years of law practice in Rockingham County, North Carolina.
Mr. Apple is a triple Tar Heel, where he graduated from the University of North Carolina at Chapel Hill, with his B. S. in business administration in 1973, and his Masters in Business Administration and Law Degree in 1980. Before graduate school, Mr. Apple served in the U.S. Air Force as a contracting officer, and upon stepping down from active duty in 1976, he served in the U.S. Air Force Reserve. Mr. Apple retired from the USAF Reserves in 1999 as a Lt. Col. in the Staff Judge Advocate corps after a total of 26 years of honorable military service.
In addition to serving as an advocate for clients for years, Mr. Apple has an extensive background in mediation. Mr. Apple was certified by the Supreme Court of Georgia as a mediator in general civil matters. He holds current certifications by the N.C. Dispute Resolution Commission to mediate family financial, civil Superior Court, and Clerk of Superior Court matters, and also is approved by the U.S. Middle District Court to mediate civil matters within its jurisdiction.
In addition to his extensive legal experience, Mr. Apple holds substantial financial experience. He was an officer and director of First National Bank of Reidsville, and its parent holding company, FNB Financial Services Corporation from 1987-1994, additionally served a term as President of both entities
Civic service is also a mainstay in Mr. Apple's illustrious career. He has served as President and Chairman of numerous charitable and civic organizations, both in Kernersville and Reidsville. He currently serves as a member of the Board of Directors and Chairman of the Finance Committee of The Shepherd's Center of Kernersville. He has been extensively involved with the Lions Club in Kernersville and Reidsville, with the most recent term having been in Kernersville and is a four-time past President. Mr. Apple has also served on the Advisory Board of Kernersville Foundation, Inc., and has served as both a member and liaison between the North Carolina's Bar Association Family Law Section and the Dispute Resolution Section Councils.
He is the proud father of two daughters, Mara, and his late daughter Lindsay. He and his wife, Susan, also have two children, Will and Katherine, and three grandchildren, Avery, Ella and Thomas O'Neil. Mr. Apple and his wife are members of Main Street United Methodist Church in Kernersville, and often enjoy a visit with New Garden Friends Meeting in Greensboro with Susan's parents.
Like Mr. Payne, Mr. Apple enjoys music in many forms, whether it is playing guitar, and enjoying music of all genres. Often times, Mr. Apple can be found sailing and enjoying time at the beach. He serves in numerous charitable and civic organizations.