Are you facing probate court proceedings after losing a loved one?
Losing someone close to you is difficult enough. Along with the grief and loss you're feeling, you're also expected to deal with the stress of settling your loved one's affairs.
It's a complicated process, and when you have to go through probate to settle the estate, emotions, and tensions are often high among family members. Not to mention the legal hoops you have to jump through that can leave your head spinning…
Many important legal questions regarding the rights of creditors and heirs arise when someone passes away, but you don't have to walk this road alone.
A Kernersville probate lawyer at our Apple Payne Law can handle all the legal legwork and advocate for your rights throughout the probate process. We're dedicated to helping families navigate life's important decisions, and we can help you too. Contact us now for guidance.
What is Probate?
Probate is a court-supervised process that begins when a person dies. During the probate proceedings in Forsyth County, a judge will review the deceased's estate planning documents—like their Last Will and Testament—and ensure their assets and property are transferred to the rightful heirs of their estate, or their "beneficiaries."
The probate process is often long, costly, and stressful for the loved ones of those who pass away. An NC probate attorney in Kernersville can help to ensure smoother and more cost-effective probate proceedings.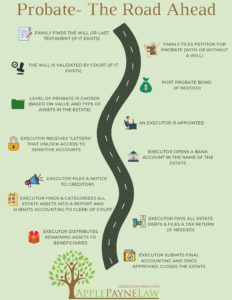 The Probate Process in North Carolina
The probate court will perform a variety of functions throughout the process of settling an estate, including:
Confirming the validity of any existing wills
Appointing an "executor" or "administrator" for the estate
Ensure any of the estate's remaining debts—including taxes—are paid
Ensure assets and property are distributed appropriately
One of the first steps the probate court will take is authenticating the decedent's will. A Last Will and Testament should contain the signature of the person who is making the will—also called the "testator"— as well as the signatures of two witnesses.
How is Probate Initiated in North Carolina?
While probate is required for most estates, the process does not begin automatically when someone passes away. A court will only initiate probate when informed of a person's death. To save time and additional effort, this same person should submit a copy of a decedent's will to the court when they give notice of the passing.
Can a Will Be Contested During Probate?
In some situations, an interested party may claim that the will be presented to the probate court is invalid for a couple of reasons. Perhaps a more recent will exists or maybe they claim that the legal document provided was the product of fraud or undue influence.
In these cases, a court may act to invalidate a will. An NC probate attorney can help you both initiate probate and raise questions about the validity of a will if someone has compelling doubts.
Responsibilities of the Estate Executor During Probate
North Carolina law states that a will can nominate an executor. If no one is specified in the will or if the deceased had no will, the court may appoint a person to serve in this role.
Regardless of how the executor is chosen, the court will issue testamentary letters that empower the executor to take temporary control of the decedent's estate – including any property and assets.
The executor must then fulfill their role under the law, which includes:
Settling the estate's debts
Maintaining the property while the estate is settled
Distributing property according to the language of the will
A failure to take these steps is a common source of disputes among family members and heirs in probate court. Executors may be held personally responsible for any lost value to an estate due to their errors or intentional fraud.
How Probate Lawyers Can Help
In cases of disputes regarding a will or executor, a skilled attorney with the North Carolina Bar Association could help evaluate the validity of legal documents as well as the actions of executors. They can identify errors during the probate process and protect the rights of heirs and other affected parties.
Executors who are uncertain about what their role entails should consult with an estate planning attorney about the steps they must take to fulfill their duties under North Carolina probate law.
How an Estate Plan Can Help Your Loved Ones Avoid Probate
Many people decide to take actions regarding their own estate plan once they've gone through the stressful probate process to settle a loved one's estate. If you want to ensure your wishes are carried out and your next generation of family members are saved the trouble and costs of probate court, there are some estate planning tools that can help.
Which Assets Avoid Probate?
Some people are surprised to learn that there are some assets that don't have to pass through probate and can be distributed directly to beneficiaries upon death.
These assets include:
Property and assets in a living trust
Proceeds from life insurance policies
Retirement accounts like 401Ks and IRAs if a beneficiary is designated
Financial accounts and bank accounts that are "payable-on-death"
In most cases, the reason certain assets can bypass probate is that there is a designated beneficiary associated specifically with the property.
Essential Estate Planning Services
When you're creating your own estate plan, lawyers can help navigate you through some of the most important documents to have in place as well as essential steps that will need to be taken should you pass away or become incapacitated.
Here are some related practice areas a Kernersville estate planning attorney at Apple Payne Law can help with:
Contact a NC Probate Attorney at a Law Firm You Can Trust
You're dealing with a lot already after losing a loved one. Going through the process of settling their estate through the probate court doesn't have to add a mountain of additional stress. Contact a NC probate attorney in Kernersville, NC to assist you in settling your family member's estate legally, efficiently, and smoothly.
Apple Payne Law can answer any questions you have about the probate process and how we can help you through your situation.
FAQ: Kernersville Probate
Do you need an attorney for probate in NC?
North Carolina probate law does not mandate that an attorney be involved in probate court or the settling of someone's estate. However, if you're dealing with a large estate, complex assets, or you expect there to be disputes among family members, it's in your best interest to have the help of an experienced lawyer that is a member of the North Carolina Bar Association throughout the process.
How long does it take to go through probate in NC?
The probate process and estate administration can take up to a year in many cases to finalize. The length of time it takes to settle an estate depends on how complicated the estate is and whether any disputes or challenges occur among beneficiaries and prospective heirs.
Do all estates have to go through probate in NC?
Small estates in North Carolina can often bypass probate and be settled through the use of an Affidavit for Collection of Personal Property of Decedent or a Small Estate Application. Estates valued at less than $20,000 (or $30,000 if the deceased's surviving spouse will legally inherit all property) can often use the affidavit process.
If you are the sole heir of an estate, you may also be able to use a simplified process called summary estate administration to settle your family member's estate.